Overmax X-Bee Drone 9.5 Fold — drone
Less than 250 grams – category C0
Flight speed up to 40 km/h
Remotely rotatable 4K camera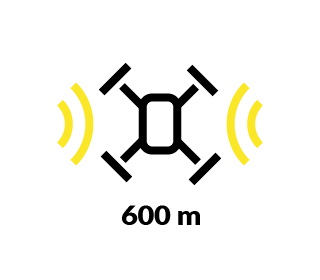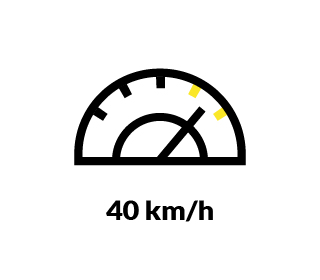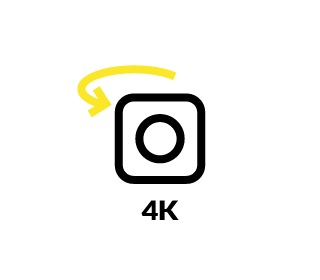 Flight speed up to 40 km/h
Remotely rotatable 4K camera
You can fly the drone for up to 22 minutes at a distance of up to 600 metres.
It will quickly rise into the air and reach its destination.
You can rotate it 90° to get exactly the shot you want.
Overmax X-Bee Drone 9.5 Fold for high-speed photos and video coverage
Photos and videos from the bird's eye view are impressive. So, if you're thinking of giving it a try, we say it's worth it! You don't need any drone flying experience to benefit from the professional solutions we have enclosed in a small and lightweight device (the whole thing weighs only 245g). Learn more about the Overmax X-Bee Drone 9.5 Fold! What will you get? The most important are brushless motors (more efficient than traditional motors) and a 4K camera with optical zoom. It allows you to take spectacular shots and unique video footage. Moreover, the transmitter with screen and long range will keep you in stable contact with the drone up to 600 metres. Long-lasting battery provides 22 minutes of fun.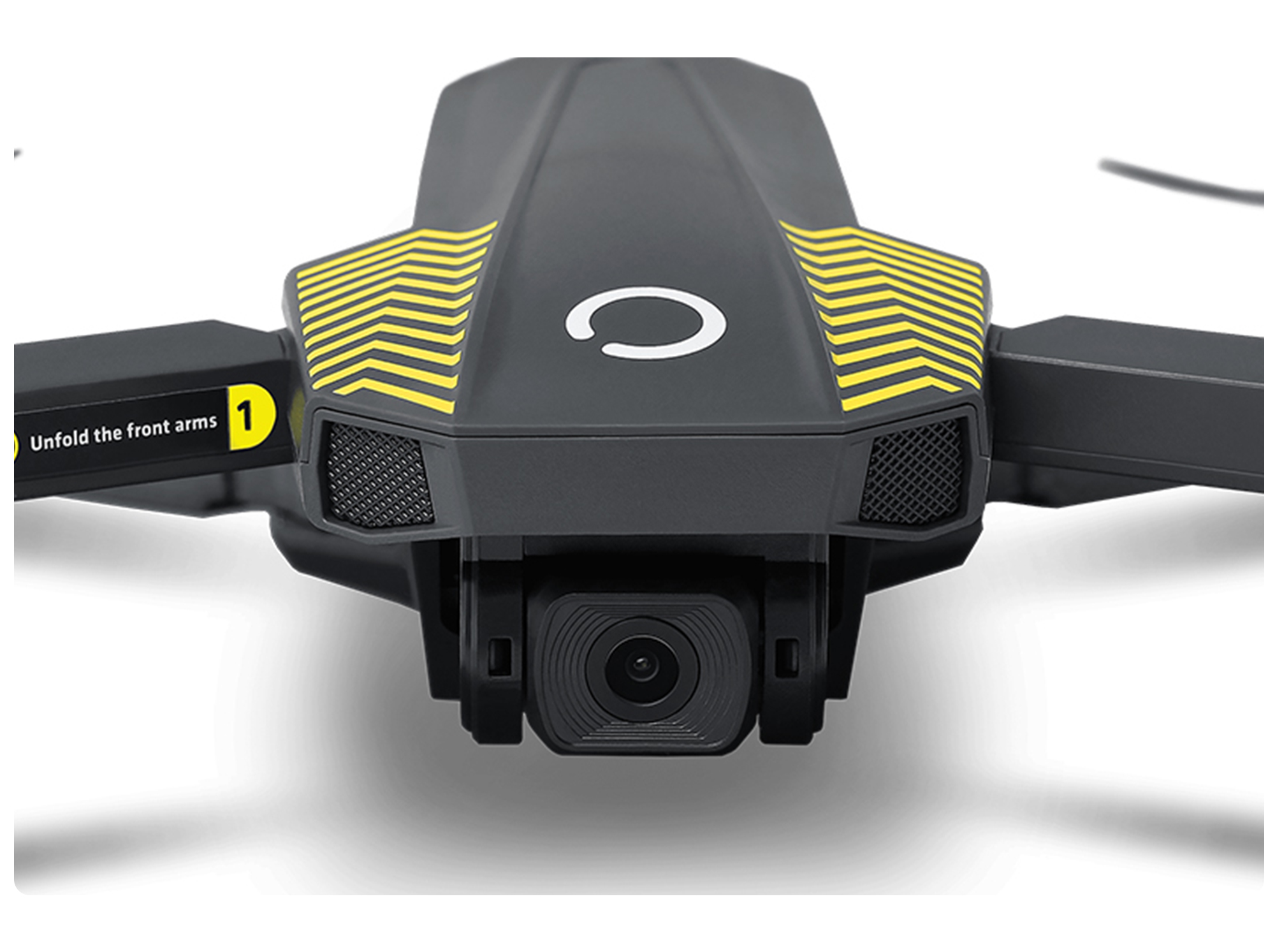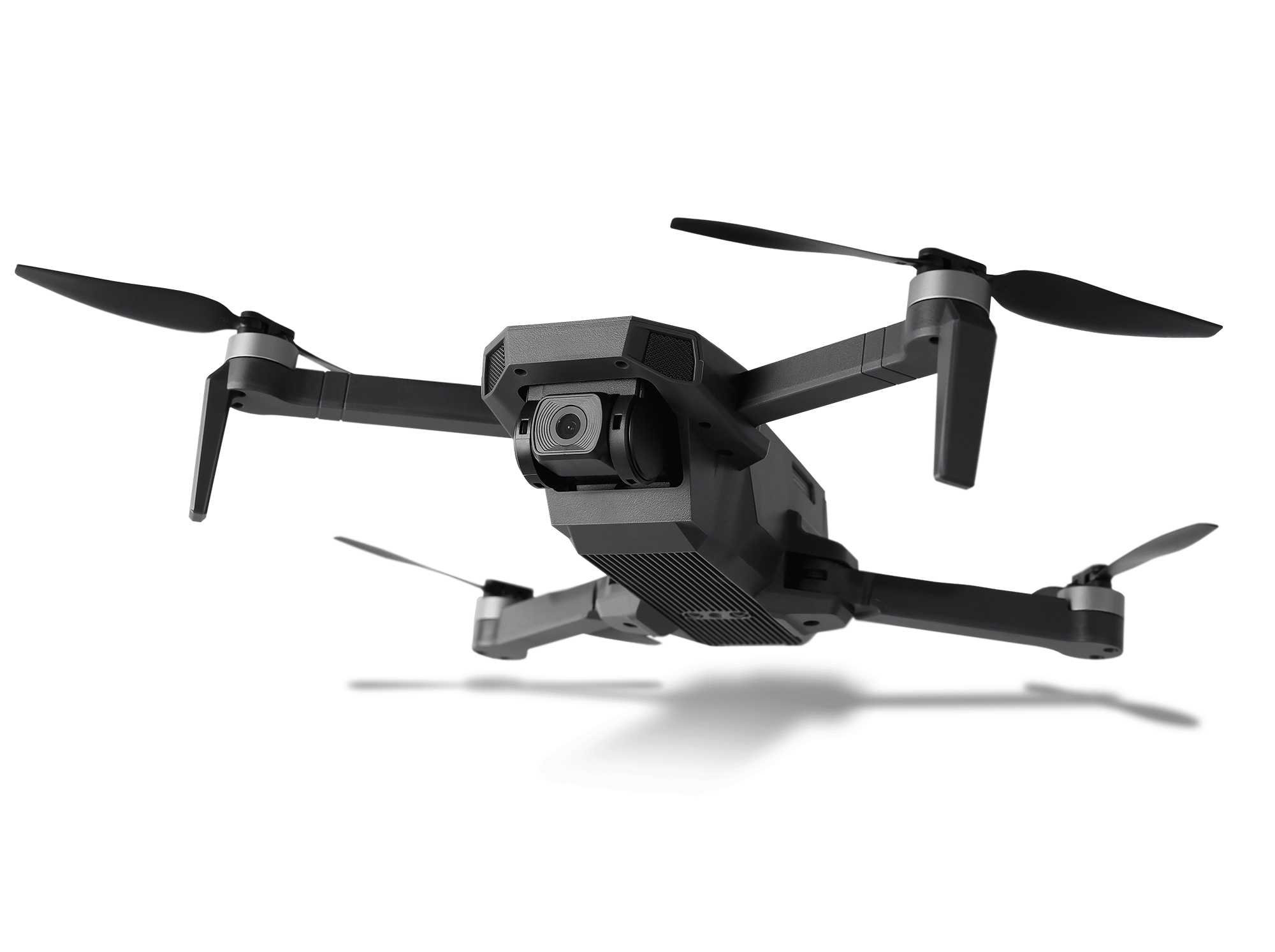 Learn about its functions!
Follow me - in this setting, the Overmax X-Bee Drone 9.5 Fold will automatically follow you with the camera pointed in your direction. A great mode for creating short sports reports!
Tap to fly -you designate points on the map where the drone will go automatically, recording the flight path. Find out what's hidden in the place you can't get to!
Point of interest - the drone circles around one point at a distance you specify. This way you will keep a constant frame.
GEO fence - you specify the area on the map where the Overmax X-Bee Drone 9.5 Fold willl move, without crossing the designated boundaries. You decide how to use it!
See more, experience more!
You get a real-time image from the camera (up to 300 m) thanks to the FPV function (First Person View). This way you will feel as if you were the one flying. This amazing experience is possible thanks to Wi-Fi connectivity (fast 5G bandwidth) and the M RC PRO app. If you want to change perspective, you can remotely adjust the camera aangle or zoom in (zoom optyczny). Thanks to an optimised optical flow function and LED lighting, the drone will also perform well in large spaces and at low altitudes.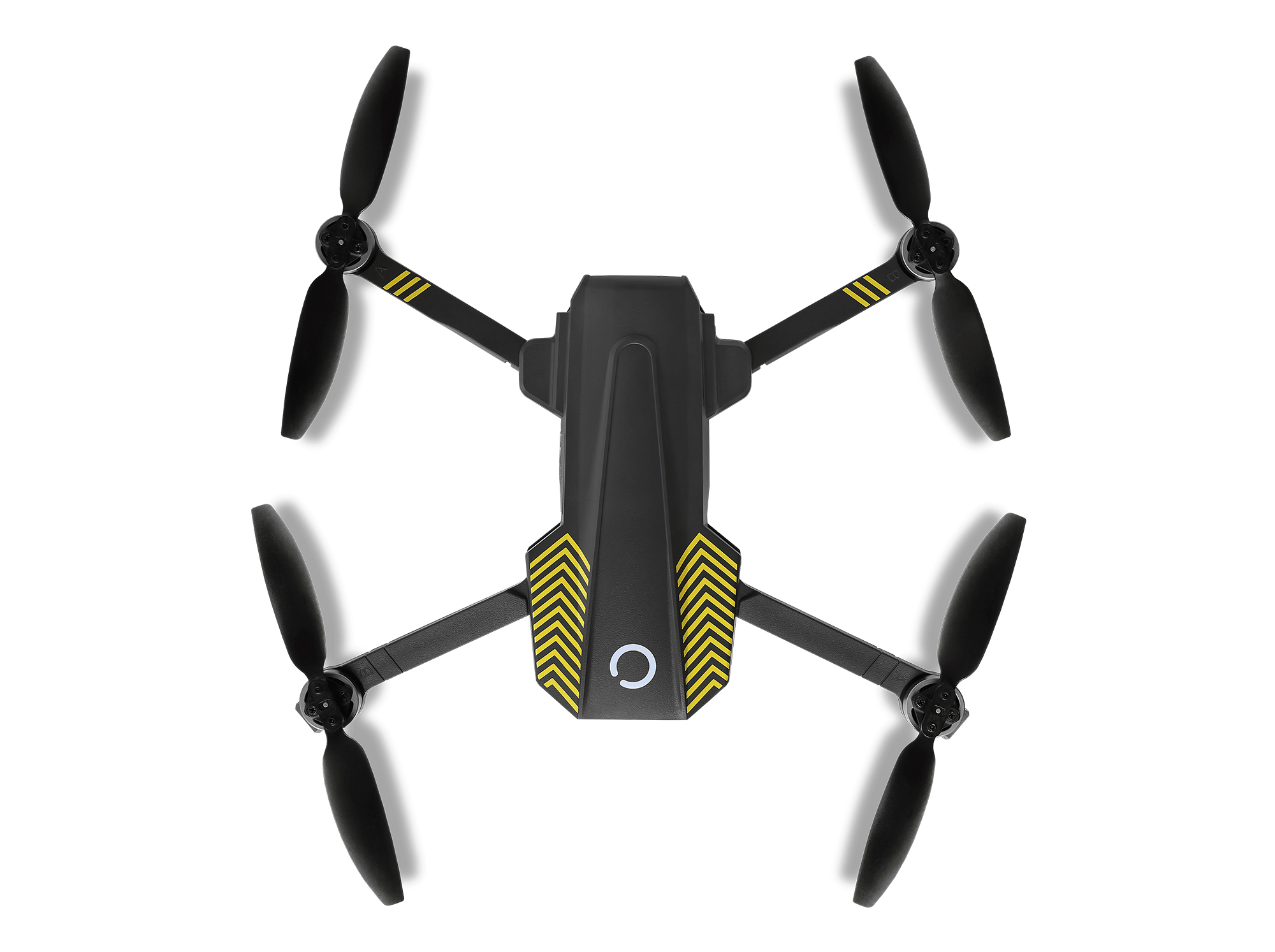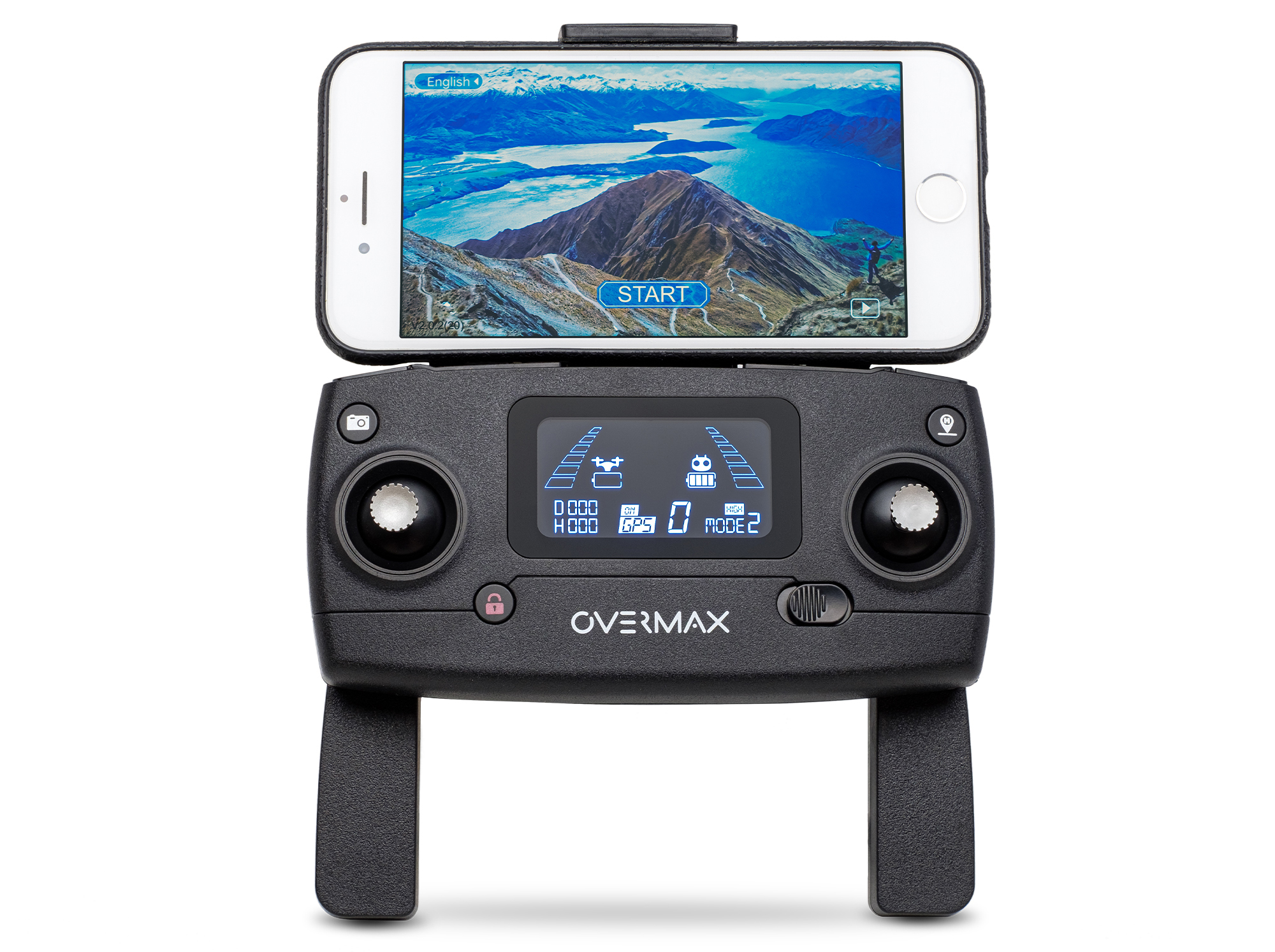 Convenient operation
You'll certainly appreciate the robust housing and the intuitive control panel – ergonomic controller and easy to read display panel. The Overmax OX-Bee Drone 9.5 Fold has features that increase the stability of shots – the function of automatic height maintenance or special rubbers that reduce vibrations. Headless mode makes it easy to control the drone in poor visibility – the device moves where the operator points regardless of its position. And if you go too far, a single BACK HOME button will take you back to your last known position. The automatic landing function takes care of a safe return to earth.
Robust housing and safety features
You don't have to worry about a safe return. The Overmax X-Bee Drone 9.5 Fold:
automatically returns to the starting point – when it loses range or when the battery is low (in the drone or controller);
automatically stops and safely lands – in case of loss of GPS coverage.
The smart battery will indicate the level of charge, making it easy to plan your flight. A practical case for transportation will make it easier for you to store and travel with your drone. Thanks to the microSD card slot, you can save recordings or photos without losing quality. As a drone is an unmanned aerial vehicle you are subject to aviation regulations. Familiarise yourself with them and register on the website: www.drony.ulc.gov.pl. In order to operate the drone, it is required to pass an online test
Specification
More Information
SKU
OV-X-BEE DRONE 9.5 FOLD
Flight range
600 meters (300m FPV)
Flight time
Up to 22 min
Built-in battery
Yes
Battery capacity
1820mAh 7,6V Li-Po
Motor
Brushless
Number of propellers
4 (8 included)
Automatic calibration
Yes
Gyroscope
6-axis
Akcelerometr
Yes
Built-in GPS
Yes
Range loss alarm
Yes
Low battery alarm
Yes
Functions
Follow me
Tap to fly
Point of Interest
Headless Mode
Back Home
Maintaining altitude
Autostart and landing
Remote control calibration
Yes
Recording quality
4K
Diameter
23 cm
Product weight
245g